Juenessa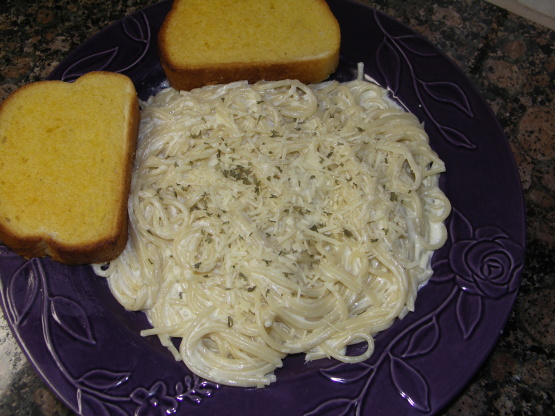 EASY, RICH AND YUMMY! I am always disappointed when I order anything Alfredo at a restaurant. I used to work at a restaurant called Bay Street long ago and they made the best and this is based on it. Do what ever you want with it. I usually add mushrooms, peas, prosciutto and toss it with tortellini. You can use any pasta you like and add chicken or shrimp and whatever veggies you like. Whatever you do it will be wonderful and so very easy, your guests will be impressed.

This alfredo sauce is delicious. My favorite and my in laws rave about this sauce. We usually add sun dried tomatoes, asparagus, diced chicken and toss with fettuccini. An excellent quick and easy meal! Great job Heidi Sue!
Sauté garlic in butter until soft.
Add cream and bring to a boil.
Slowly add Parmesan, allowing to melt.
Season to taste with white pepper.
Toss with pasta and serve with garlic toast.