My Version of Sweet and Sour Chicken
Cynna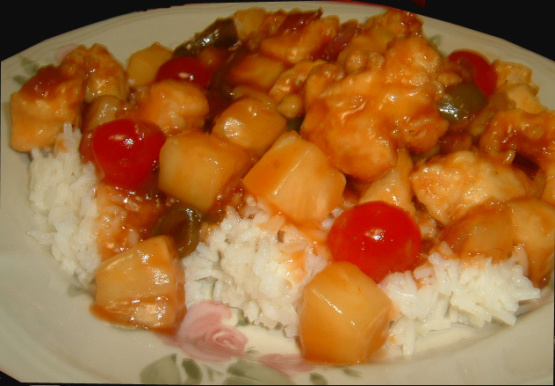 This recipe was recommended to me. Personally I am not a sweet and sour person but this recipe changed my taste buds. I made a few changes and put it in my recipe book to make again.

Top Review by Cynna
This was a very colorful dish and the chicken was lovely! I served it over white rice. We really enjoyed all the different textures this had to offer but we did find it to be a touch too sweet. Next time I think I will cut back on the sugar a touch and maybe increase the soy sauce. A little more sour for the sweet. Wonderful Saturday night feast! Thanks for sharing it with us Marsha D.!
Combine 1/3c.
cornstarch,2 slightly beaten eggs and salt in a medium size bowl.
Cube up chicken breast and place in cornstarch mixture.
Mix well and place in refrigerator for 30 minutes.
Deep fry chicken at 400' degrees until browned.
Drain and set aside.
In a wok or large skillet on medium heat add Cancola Oil.
Saute in green peppers and onions until onions are lightly browned.
Add brown sugar,vinegar,catsup, 2Tbsp.
cornstarch,soy sauce,Teriyaki sauce,sesame oil and pineapple juice.
Mix well and simmer over medium heat until thicken.
Add pineapple,cherries and fried chicken chunks to pan and stir until sauce covers chicken.