My Version of Rachael Ray's Chinese Spaghetti and Meatballs
Ms B.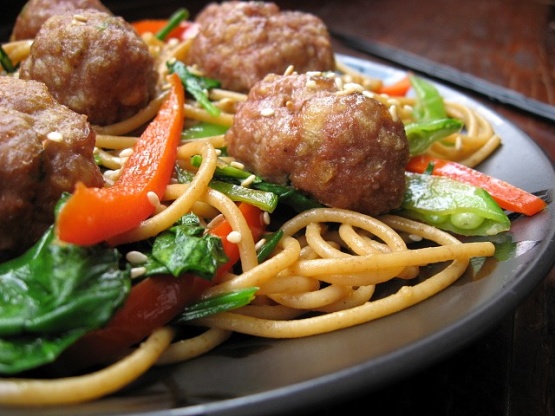 After seeing this recipe on an episode of 30 Minute Meals, I decided to tweak it a little to suit what I had on hand and what I knew would work in my house. It's a fairly simple (although, I won't claim that it only takes 30 minutes...nothing ever does, does it?) meal that is pretty healthy with the lean protein, the whole grain, and all the veggies. Although as with any Asian inspired meal, the soy sauce does account for a lot of sodium.

I too saw this recipe on Rachael Ray and was going to post it because it my family really loved it. I was glad to see it was already posted and reviewed. It was easy, healthy and flavorful. Next time I will cut the five spice powder in half - it was just to strong for our tastes otherwise I would leave it just like it is. Great recipe!
453.59

g whole wheat spaghetti or 453.59 g whole grain spaghetti

453.59

g ground turkey

1

egg

3

slice whole grain bread

1

garlic clove, finely minced

4.92

ml Chinese five spice powder

29.58

ml cilantro, chopped

9

scallions, 3 finely chopped, 6 cut into 2-inch lengths

29.58

ml tamari dark soy sauce, divided

78.07

ml tamari dark soy sauce, divided
cooking spray

473.18

ml snow pea pods, thinly sliced on an angle

1

red bell pepper, very thinly sliced

2

inch gingerroot, grated

4

garlic cloves, grated

453.59

g spinach, coarsely chopped

14.79

ml toasted sesame oil

44.37

ml toasted sesame seeds
Preheat oven to 375 degrees F.
Place a pot of water on to boil for spaghetti. When it comes to a boil, salt the water and add pasta to cook to al dente.
Combine ground turkey with egg in a mixing bowl.
Place whole grain bread in food processor and pulse into crumbs. Add crumbs to meat mixture.
Add salt, pepper, garlic, five-spice powder, 3 chopped scallions, cilantro, and 2 tablespoons soy sauce to meat mixture.
Form 1 1/2-inch balls and place on a baking sheet that has been sprayed with cooking spray. Roast 15 minutes, turning halfway, if the meatballs are over browning on the bottoms.
When the meatballs are close to done and the pasta is in, spray a large skillet with cooking spray and place over high heat.
Add the snow peas, red pepper, remaining cut scallions, ginger and garlic, stir-fry 2 minutes.
Add spinach and wilt, 1 minute.
Drain the pasta and add to the vegetables.
Add the remaining soy sauce, about 1/3 cup, and the sesame oil.
Toss to combine so pasta can soak up sauce, about 1 minute.
Garnish with sesame seeds and top with lots of meatballs.