My Version of Nasi Goreng (Indonesian Fried Rice)
Sue Lau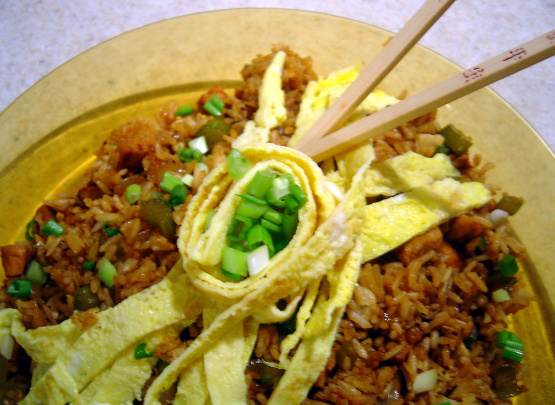 This tastes best with day-old rice. A family favorite growing up. My grandmother used to make it using bacon. I substitute turkey bacon or chicken since I no longer eat pork. The turkey bacon tastes the same and is better for you. We always served strips of fried egg over the top, but this is optional. Remember, if the nasi goreng not spicy enough for you at the end, add more sambal to your plate until your nose runs sufficiently.

Yummy! This was super easy to make since I used frozen cooked chicken breasts cut up. This was the first time I ever tried celery in fried rice but have to admit it gave it a nice crunch that normally would have been provided by bean sprouts. I found the ketcap manis gave this a light sweetness that reminded me somewhat of the fried rice I get for takeout, but I did end up adding a little regular soy sauce to my own portion at the table. It gave it the kind of saltiness I prefer, even though I added over 1 tsp. during cooking. The only thing I found wrong with this recipe was that the instructions didn't say what to do with the celery and onion, and the omelet ingredients were not in the list, although I figured it out. I am just glad I had enough eggs since I didnt read through the recipe before preparing. You may want to edit your recipe and add that information in. Otherwise, bravo! Your grandmother is an excellent cook! Thank both you and her for a great recipe.
2

cups prepared jasmine rice (2 cups before it was cooked, so this should measure out to be more.)

2

onions (sweet or yellow)

3

garlic cloves, minced

2 -3

stalks celery

2

cooked chicken breasts, chopped (or half a package turkey bacon, chopped finely)

1

tablespoon tomato ketchup
1⁄2 teaspoon shrimp paste (or half inch cube of solid shrimp (blachan)
salt and pepper, to taste
1⁄4 cup ketjap manis (or more, to taste)

1

teaspoon sambal oelek (chili paste, or to taste) (optional)
Pour a little oil in a large skillet/wok.
Fry chicken/bacon in skillet on medium heat until cooked thoroughly.
Add all other ingredients except rice to the skillet. Add sambal if you want it hot.
Mix and simmer until shrimp paste dissolves into mixture and everything is heated through.
Add rice to mixture and mix it in .
Heat until rice is heated.
Add more ketchup to taste. There is usually enough ketchup when the rice is light brown from its color.
To make omelet garnish: Put olive oil in small pan. Whip up 2 or 3 eggs. Pour over olive oil on low-medium heat. Cook until middle sets, then turn the heat off and cover the pan to let the steam finish the edges. (This is a great way to make moist scrambled eggs by the way.) Cut into thin strips and serve over rice.