My Version of Caramel, Salted Cocoa
momaphet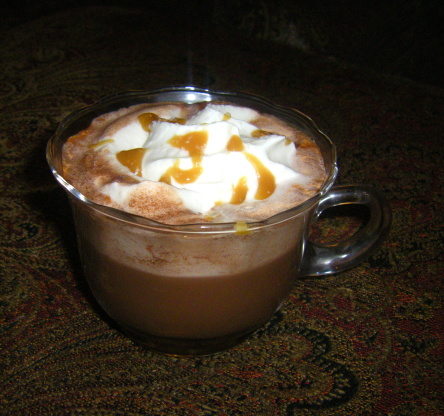 Make sure to use a good quality cocoa for this one. Its so good, please don't be tempted to not use the SALT...it enhances the dark depths of the bittersweet chocolate and the sweet golden carmel.

I waited and waited to tag this recipe in the Best of 2010 Recipe Tag game. Finally was able to tag this recipe only to have the weather warm up to 40 degrees. Doesn't matter though, it is well worth making any time. My favorite part was getting to the bottom of the mug where the last of the whipped cream was residing with the caramel sauce and course sea salt. I will definitely be making this again. Best of all, it is a cocoa I get to enjoy without the kids finishing it all off. We don't drink, so I did not add schnapps, but it is so rich the kids don't care for it.
3

tablespoons bittersweet cocoa, good quality

1

cup 2% low-fat milk

1 -2

tablespoon caramel ice cream topping
1⁄8 cup heavy cream

1

ounce butterscotch schnapps (optional) or 1 ounce butterscotch liqueur (optional)

2

ounces whipped cream (garnish)

1

teaspoon bittersweet chocolate shavings (garnish)

1

tablespoon caramel ice cream topping (garnish)
1⁄16 teaspoon coarse sea salt
Heat milk in pot on low heat -- till nice and hot -- do not boil.
Mix in the bittersweet cocoa and blend well.
Add the carmel, cream and buttershot to the warmed milk and stir well.
Top with the whipped cream and sprinkle on chocolate shavings.
Next drizzle the carmel over the whipped cream and chocolate, lastly sprinkle on the salt.
Now sit back and enjoy this decadent treat. You won't believe the flavor.