Rita1652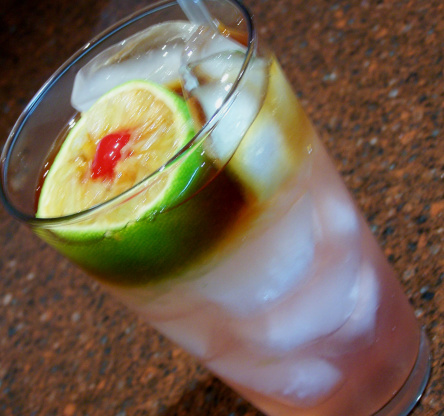 The Mai Tai Cocktail is a beautiful tribute to rum....fine aged rum. If you like rum, you will like this strong cocktail. Contrary to popular belief, this is not a fruity cocktail and I cringe when I see bartenders add fruit juices to this perfect drink. If you like fruity drinks try a zombie or Maui Mai Tai - but if you like rum, this is a celebration. This is NOT the original Mai Tai recipe, but it is a fabulous version . The original Mai Tai was created in the early 40's by Trader Vic in Oakland. The name of the drink comes from the reaction of its first samplers, who were from Tahiti, when they exclaimed "Mai Tai - Roa Ae", which means "Out of This World - The Best".

An outstanding drink. I couldn't find clear curacao, so blue had to do. I prefer gold or dark rum so thats what we used. I found that an orange substituted for the orgeat syrup perfectly. My cocktails weren't as pretty. They kind of looked like a bruise, what with the blue curacao and grenadine but still were really good. Thanks for the Recipe!
2

ounces premium rum (Havana Club - 7 yr is good)
1⁄2 ounce clear Curacao
1⁄2 ounce orgeat syrup (if you cannot find orgeat syrup try CharlotteJ's Orgeat Syrup)
1⁄4 ounce simple syrup

1

dash grenadine, for color (optional)
float dark rum
Combine the first 7 ingredients in a cocktail shaker filled with ice and strain into a cool old fashion glass filled with crushed ice.
Float dark rum.
Sink half of the lime shell with a maraschino cherry stuffed inside. Orchids are a nice garnish as well. If orchids are unavailable a fresh mint sprig will always do. Enjoy!