Just_Ducky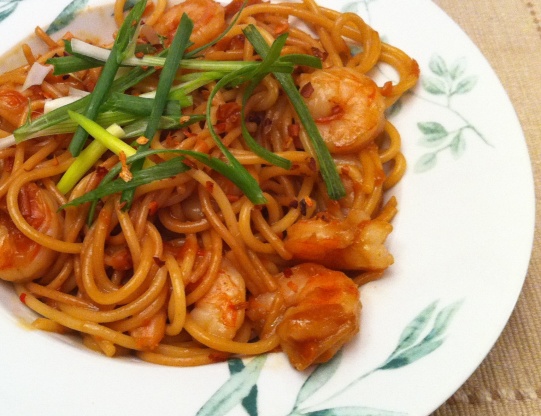 After tinkering with a few different recipes, this is my family's favorite version! Sooooo good, I could eat the whole bowl! You can easily add cooked chicken and make it a main dish! The honey is an optional ingredient; leave it out if you don't like the noodles sweet.
I saved this recipe a couple weeks ago for a night just like tonight where I needed a quick meal. I cooked some shrimp on the side and added it as well as mixing in a couple of shredded carrots to make sure the kids got some veggies. Ds10 asked if I could rate it 10 stars out of 5, I told him the best I could do was let you know his rating, this is the kid that doesn't care for peanut butter too ;). A perfect blend of seasonings. I did cut back quite a bit on the Samba Olek as my boys are not quite ready for the heat and just added more to mine as well as some crushed red pepper. Also forgot I was out of sesame seeds so added a wee bit extra sesame oil. Wonderful, easy and delicious meal. Thanks for posting Charmie :D!
Heat peanut butter in microwave for 20 seconds to soften.
In a large bowl whisk together softened peanut butter, soy sauce, vinegar, sesame oil, sambal oelek and honey (if using).
Add spaghetti, green onions and sesame seeds.
Toss well.
Chill until ready to serve - or serve at room temperature.
NOTE: Please adjust ingredients to suit your tastes.