Prep 15 mins
Cook 30 mins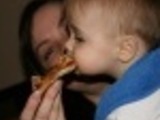 I love to play with Asian ingredients! This recipe is so simple and yet delightful that I just had to post it. It is a family favorite! I hope you enjoy it like we do. The beautiful thing about these ingredients is they play well together. So if it's not sweet enough for you, add a little more brown sugar; likewise, if it's not salty enough, add more fish sauce...
Directions
Heat skillet over medium high heat.
Add olive oil.
Saute chicken in skillet until browned, approximately 5 minutes.
Remove chicken.
Add coconut milk, curry paste, fish sauce and brown sugar. Whisk to combine.
Bring to a simmer, reduce heat to medium low.
Add chicken and simmer for 15 minutes.
Add cubed potatoes and continue cooking until potatoes are firm but cooked through, approximately 5-7 minutes longer.
Remove from heat and sprinkle with cashews and cilantro.
Serve over white rice in a wide mouthed bowl.
Most Helpful
This dish was good. A little sweet for our taste. I don't know why, but I always assumed Thai food was spicy and every Thai recipe I have tried has been sweet. I will try to spice it up a little if I make this again. Made for PAC Spring 2013.

We really enjoyed this dish. It is very quick and has lots of flavor. The potatoes were peeled, cubed and cooked in a small amount of water. Then drained and added to the remaining ingredients. Not having cashews, the dish was garnished with chopped peanuts. The curry was served over steamed brown rice but I would suggest using Jasmine rice if you have it. Made for PAC Fall 2012.