My Tasty Tasty Venison & Pork Chili
teresas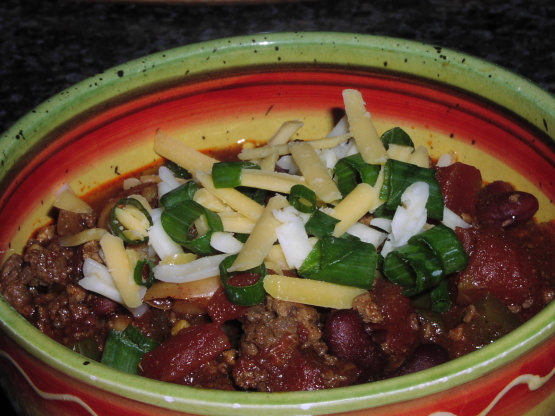 My husband loves venison chili. We hope that you will enjoy this spicy dish, which can be made hotter or milder, by adding or decreasing the amount of chili powder and peppers. When cooking with venison, I always add ground pork or bacon because venison is very lean and can dry out easily. For the best tasting chili remove from heat, let the chili cool completely, then cover and refrigerate it until the next day.

I really shouldn't be rating this recipe...I didn't have venison...but I did have moose...so that is what I used...delicious...it is very similar to my recipe #159563...so I knew we would enjoy it...can't wait for the left overs...made for..."For Your Consideration" tag game...=)
1

lb ground venison

1

lb ground pork

1

tablespoon butter

1

tablespoon oil

1

onion, large, Spanish, chopped

2

garlic cloves, large, minced

1

cup bell pepper, sweet (green or red or yellow or or orange)
1⁄2-1 teaspoon sea salt, coarse

3 -4

teaspoons sugar

4 -6

tablespoons chili powder, Mexican
1⁄4 teaspoon red pepper flakes, New Mexico, hot dried
1⁄2-1 teaspoon cayenne pepper
1⁄4-1⁄2 teaspoon red pepper flakes
1⁄4-1⁄2 teaspoon Tabasco sauce
1⁄2 teaspoon ground allspice
1⁄2-1 teaspoon ground cumin (optional)
1⁄2-1 teaspoon ground coriander (optional)

2

fresh bay leaves (or 1 dried leaf)

1

teaspoon oregano

2

tablespoons cider vinegar
3 1⁄2 cups stewed tomatoes
1 1⁄2 cups tomato sauce
1 1⁄2 cups beef broth

19

ounces red kidney beans, drained (1 can)

19

ounces white kidney beans, drained (1 can)
1⁄2 cup monterey jack cheese, shredded (garnish)
1⁄2 cup old cheddar cheese, shredded (garnish)

2

green onions, thinly sliced (garnish)
In a large pan saute the onions and garlic in oil and butter until they are limp and golden.
Next add the ground venison & pork, stirring until well browned.
Then add the rest of the ingredients except for the beans and cook on high for 5 minutes making sure to stir constantly at this stage.
Lower heat, cover and simmer for 30 minutes.
Add the drained kidney beans and stir to blend the flavors together.
Place the chili in a slow cooker on low and cook for 2 - 3 hours.
Cook until the chili is thickened and rich in flavor.
Remember to taste your chili as it's cooking to see if you need to adjust your seasonings.
Adjust the spices accordingly and add more liquid if the mixture gets too dry.
Top with a mixture of shredded cheddar & Monterey jack cheese & thinly sliced green onions.