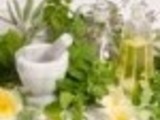 Love this stuff; not quite the authentic because I have only the ingredients my family likes,but I'm sure you will really enjoy it with some pita bread.
Directions
Soak bulgur wheat in lukewarm water to cover by 1/2 inch for 45 minutes and then place in sieve to drain.
Combine minced onion pepper and salt.
Set aside.
In a large bowl, combine parsley, scallions and tomatoes,.
Gently fold in the soaked or rinsed wheat.
Stir in seasoned onion and dress with lemon and oil.Add parsley, scallions and tomatoes,.
Refrigerate at least an hour before serving.
Serve on lettuce leaves in individual dishes, or use tender lettuce heart leaves as scoops to eat the tabbouleh. In Lebanon tabouleh is generally served on a large platter and decorated with chopped tomatoes. The vegetable leaves are served on a separate dish in an attractive way.
I usually have a basket of mini pitas that we spoon our tabouleh on.
Reviews
Most Helpful
Can't improve on this winner! I used both Italian (flat leaf) and curly parsley, but otherwise followed the recipe closely and this turned out just perfect; not overly complicated, but full of fresh flavor. Thank you, Sage!

I enjoyed this as a different version of Tabboleh. I liked that the lemon juice/oil flavor was more pronounced in this than when the recipe includes parsley and mint. Very enjoyable and easy to make! Made for ZWT3!