My Sweet and Sour Chicken
Shelly K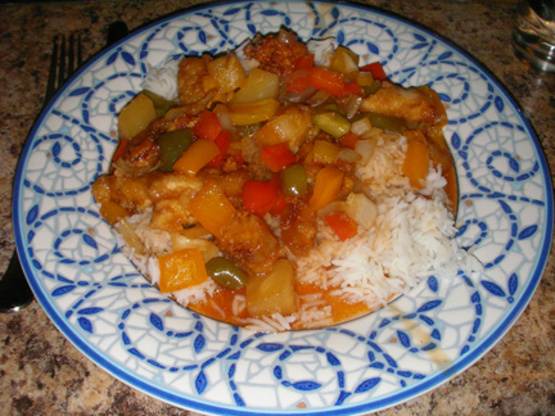 This is so good. We love to eat it with hot sticky steamed white rice. Jasmine rice is our favorite.
I'm so sorry that I can't recommend this dish. The only way I deviated from the recipe was that I took another reviewer's suggestion and added sliced onion and bell pepper to the casserole because that sounded really good and sprinkled in some red pepper flakes for a little 'bite'. When I tasted the sauce after mixing, it was absolutely yummy. However, after baking, it was just way, way too much on the 'sweet' side, without even a hint of 'sour'. My son reheated it the next day, adding another 1/2 cup of vinegar trying to cut the sweetness. Unfortunately, it didn't. Since your family and others seem to love it, I guess it's just a tastebud thing, so I think it's fairer to leave a comment rather than a rating. Didn't work for us, but I'm sure many people will enjoy.
Dip chicken in beaten egg, then cornstarch, fry in hot oil until golden brown.
Place in casserole dish.
Mix sauce well and pour over chicken and bake for 2 hours at 325*.