My Stuffed Chicken Breasts
VickyJ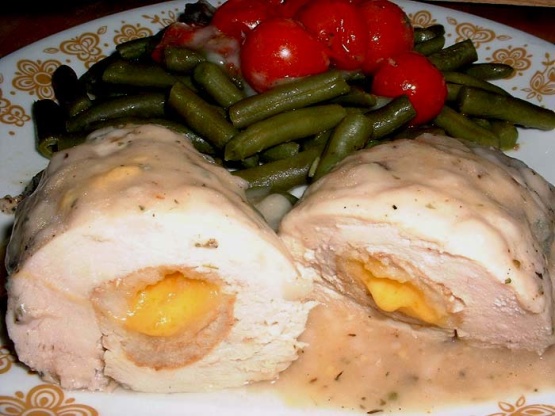 This is something I made with what I had on-hand one night, and it turned out delicious. You can serve it alone or with sauce. I made a simple one with a little chicken broth, flour, basil and rosemary over medium heat until it thickened. A nice tossed salad or veggies with crusty bread would go excellent with this dish. You can vary the seasonings or cheese if you wish.
Preheat oven to 350°F.
Combine stuffing, butter, Parmesan cheese, parsley, basil and rosemary.
Butterfly chicken breasts and lie flat on cutting board.
Take slice of ham, spoonful of stuffing mixture and slice of cheese; wrap breast around and place seam-side down in 9 inch glass baking dish. Repeat with other breast and cover dish with foil to prevent burning.
Bake for 45 minutes to 1 hour, or until chicken is no longer pink.
You can make a sauce with this or serve it alone.