My Steamed Sole and Vegetables
Bergy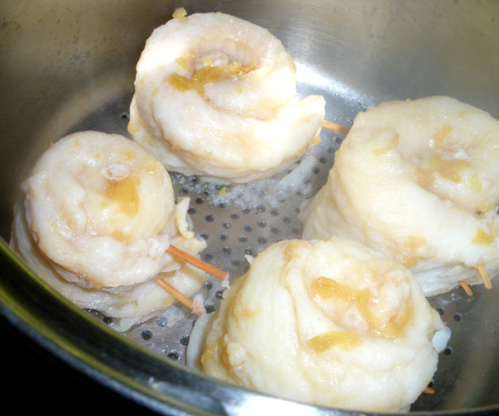 Top Review by Bergy
The recipe calls for sole but I used Basa filets. The marinade is very light flavored and perfect for the fish. I didn't julienne the carrots as I had new young ones and cooked them separately along with steamed cabbage and a small baked potato with cottage cheese & chives. The fish is very moist and tasty.A lovely tasty healthy meal.
Combine 3 tablespoons soy sauce, wine, onion powder, sugar and ginger in shallow pan; add fillets, turning to coat both sides well. Let stand 10 minutes; turn over once.
Meanwhile, toss carrot and zucchini with remaining soy sauce; pour off excess sauce. Turn vegetables out onto 8-inch round heatproof plate.
Remove fillets from marinade; spread out flat and sprinkle with 2 tablespoons green onions. Starting at thinner end, roll up fillet, jellyroll fashion; arrange, seam side down, on vegetables.
Place plate on large steamer rack set in large pot or wok of boiling water. (Do not allow water level to reach plate.) Steam, covered, 12 minutes, or until fish flakes easily with fork.
Sprinkle remaining 1 tablespoons green onions evenly over fish.