My Special Crispy Baked Fish
KateL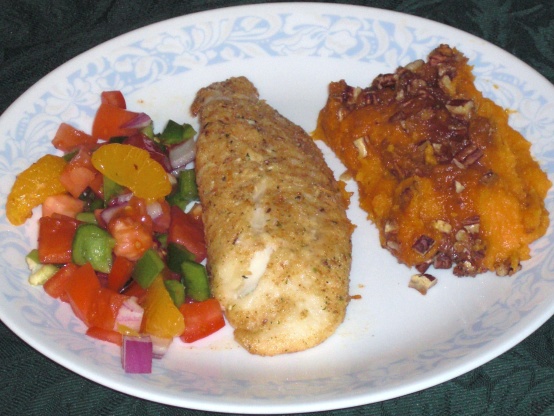 I adapted this recipe from Better Homes & Gardens. It is much healthier than pan frying fish and tastes just as good. This recipe works great on any fish fillets. My husband and I fish often and this works well with either frozen or fresh fillets. We have used it with trout, bass, and catfish.

I liked this recipe but I made my own breadcrumbs and added some
cayenne pepper to the mix .. I used white fish the first time and then I tried fresh tuna and marlin... I used the same recipe to
bake zucchini .. I got creative today and tried using the same recipe
to cook some tomatoes that were not quite ripe enough.. turned out
excellent.. I washed them and sliced them in rounds..dipped, floured dipped and coated.. but I cooked them at 375 degrees for 20 minutes.
Rinse and pat dry fish. Cut into 4 serving size pieces if needed.
Measure thickness of each piece. This will determine cooking time.
Create an assembly-type line with milk in one dish, flour in another.
In the last dish, combine bread crumbs, parmesan, dill, and black pepper. Add melted butter, stir until forms small crumbs.
Dip fish in milk (this helps the flour stick to fish).
Then dip in flour.
Dip again in milk.
Then dip into bread crumb mixture. Press crumbs into fish if not sticking.
Place fish on GREASED baking sheet.
Bake uncovered at 450 degrees for 5 minutes per 1/2 inch thickness of fish. If the thickest part of fish is 1 inch thick, bake for 10 minutes. Check doneness by inserting fork and if fish flakes easily.
I place rings of onion and lemon juice on bottom and top of fish while baking for extra flavor.