marisk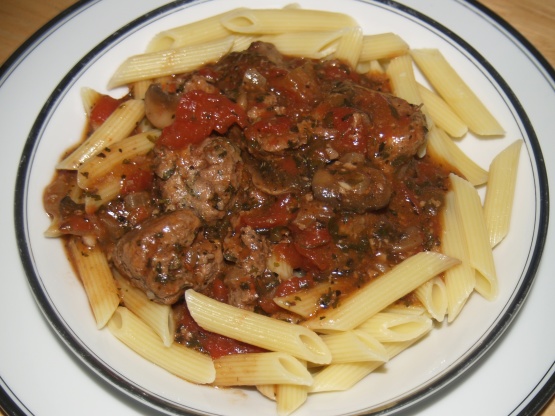 It looks like a lot of work because of the list of ingredients it's actually a relatively simple recipe (mostly spices). This is great served with French bread. The instructions (my sister's) will leave you with a French bread with a wonderful crisp crust.
Combine meatball ingredients in large bowl. Start forming 1 inch meatballs.
Place med-large pot on right burner (low heat) and a skillet on the left burner (med-high heat).
As meatballs are formed, place first batch in the skillet and brown. When about half way cooked through, transfer to the pot. Continue with the remaining meatballs in this way.
When done browning the meatballs, add the 3/4 cup of water to the skillet to pickup all the flavor and bits of hamburger left behind in the pan. Add the water with all the flavoring to the meatballs (in the pot).
Add remaining sauce ingredients to meatballs in the pot. Increase to med-high heat and bring to a simmer. Continue cooking (with cover on) at a low simmer until meatballs are done.
Serve over pasta or rice.
Best if served after one day.
FRENCH BREAD: Place whole (unsliced) french bread in oven-325 degrees for 5-10 minutes; remove and slice. Serve with butter or garlic butter on the side).