My Sister's Vegetable Rigatoni
Redsie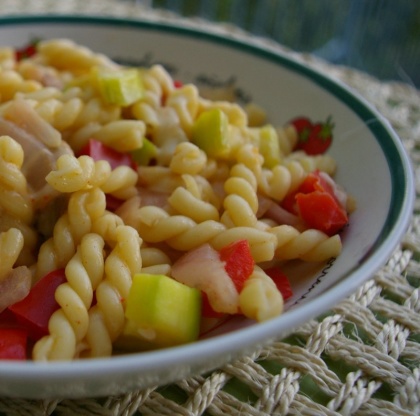 My sister makes this for my veggie DD at family dinner parties. It's a hit with everyone.

This dish is plain and simple and that's what makes it so great!! I didn't have any mushrooms and I don't care for onions so I left those out. I used half of a green pepper and a couple of gypsy peppers but I think it would be great with red peppers too. I had some partial packages of whole wheat bowties and rotini so that's what I used. I was pleasantly surprised with the addition of the boullion and paprika. This is a healthy dish that you can whip up in a jiffy with staple ingredients - really enjoyed - thanks for sharing the recipe!
2

medium red onions, halved and sliced

2

red peppers (or yellow or green)

1

medium zucchini or 1 medium yellow squash, halved and sliced
4 1⁄2 ounces whole wheat rigatoni (weight before cooking)

2

cups sliced mushrooms
1 1⁄2 teaspoons chicken bouillon (use vegetarian)
1⁄2 teaspoon paprika
1 1⁄2 ounces part-skim mozzarella cheese, shredded
In 11" x 7" baking dish, combine onions, peppers, zucchini and 2 tbsp water.
Microwave, covered on High 4 to 5 minutes, stirring halfway through cooking.
Add cooked rigatoni and mushrooms.
Toss to combine with vegetables.
Sprinkle with bouillon and paprika.
Microwave, covered, on High 2 to 3 minutes until vegetables are tender.
Sprinkle with cheese.
Microwave, uncovered, on High 2 to 3 minutes until cheese melts.
For Vegetarian only use a Vegetarian Chicken flavored bouillon or you will have to sub a Vegetable bouillon.