Prep 20 mins
Cook 35 mins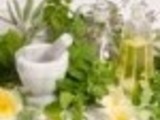 I found this recipe a long time ago and it is so much faster to bake than your regular recipe. Still you get that flavour of the old-fashioned favorite, scalloped potatoes.
Directions
PREHEAT oven to 350°F Grease 11 x 7-inch baking dish.
PLACE potatoes and sliced onion in large saucepan. Cover with water; bring to a boil. Cook over medium-high heat for 3 to 4 minutes; drain. Set in ice cold water to stop the cooking; drain.
HEAT butter in same saucepan over medium heat. Add onion; cook, stirring occasionally, for 1 to 2 minutes or until onion is tender. Stir in flour, salt and pepper. Gradually stir in evaporated milk and chicken broth.
Cook, stirring constantly, until mixture comes to a boil. Remove from heat. Arrange potatoes in prepared baking dish; pour milk mixture over potatoes. Sprinkle with cheese.
BAKE for 50 minutes or until potatoes are tender and cheese is light golden brown.
NOTE: For a twist on the traditional, spice up your Scalloped Potatoes with these tips. Add chopped ham.Or, add 1 cup (4 ounces) shredded cheddar cheese to the milk mixture after it is removed from the heat and top the dish with additional shredded cheddar cheese in place of Parmesan cheese.
No fat Carnation milk works.
Slicing your potatoes in your processor is another time saver.
Most Helpful
This was just OK. It tasted too much like the evaporated milk.
Fabulous dish. I followed the original recipe as written & it came out perfectly. I likely the par-boiling idea, it really cuts the oven cooking time & the potatoes melt in your mouth. We don't like real heavy dishes so we enjoyed the milk/broth mixture & used parmesan vs cheddar. The topping got crispy golden brown which only added to the scumptous flavours. Thanks for sharing your recipe.
Followed the recipe and ended up with a great dish. This will be a recipe I will for sure make again and again. Easy to make.