My Quick and Easy Lower Fat Penne
lazyme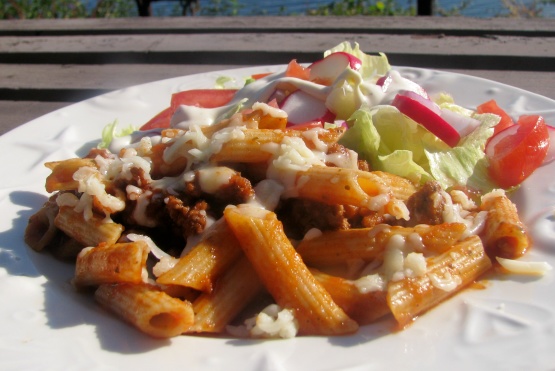 This is the simplest recipe I think you will ever make. I just threw this together for supper and eveyone loved it. You can add items you like as this is a basic, simple recipe.

I modified this for our budget and it came out perfectly. The first time I made it with regular old hamburger, cheap spaghetti sauce, and shredded cheddar and then followed your instructions. The second time I just made on it on the stove top. Both came out perfectly. Thank you for sharing.
Fill Dutch oven approximately half way full with water and bring to boil. When water comes to a full boil, add penne and cook until tender, approximately 12 minutes. Drain penne and set aside.
In large skillet brown ground sirloin until no longer pink.Add ground sirloin to drained penne in dutch oven.
Add the two cans of spaghetti sauce and mozzarella cheese, stir gently until well combined. On medium-low heat, cook until heated thru and cheese melts.