MsBindy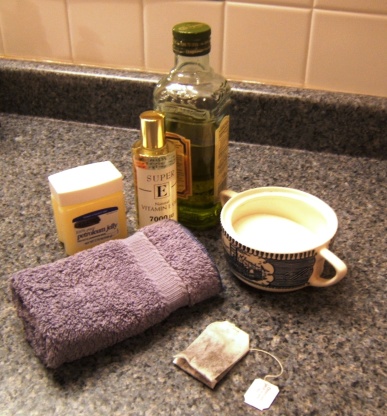 This is a wonderful recipe I came up with. It is for normal to dry skin. It is very simple and it also moisturizes, smoothes, tightens, and softens the skin. I absolutely love it! I hope you will too.

I normally have oily skin, but in winter my hands get very dry and my fingertips crack. I saw this and was thinking about trying this on my hands! I used almond oil and vit E oil. I only have flavored tea bags, so I used a green tea ginseng bag. If using on your hands, you really need someone to help you. Otherwise your hands are all sticky and can't finish the steps. It doesn't say how long to do step 4, so I flipped my hands back and forth for about 4 minutes or so. I'm going to try step 1 & 2 and put my gloves on to sleep with every night for awhile. Thanks!
Apply first three ingredients in order in thin layers on your face.
Let set for about 10-15 minutes. (It won't hurt if you keep it on longer.)
Meanwhile, boil the water.
When the 10+ minutes are up, place the teabag in the pot of boiling water. With the mask still on, put your face over the water so that your face is engulfed in fragrant steam. Be careful not to put your face too close, though. This step allows the mask to really penetrate the skin.
When you are done with that, leave the mask on for an additional 5 minutes.
Now the mask is ready to come off. Don't worry if the mask is not dry; it shouldn't be.
Scrub your face with the sugar. (Your mask should still be on.)
Finally, you can rinse off the mask with warm water. Wipe off your face and any extra oil with a cloth.
Then rinse again with cold water to close your pores and lock in all the good stuff. Pat dry.
Done!