Jostlori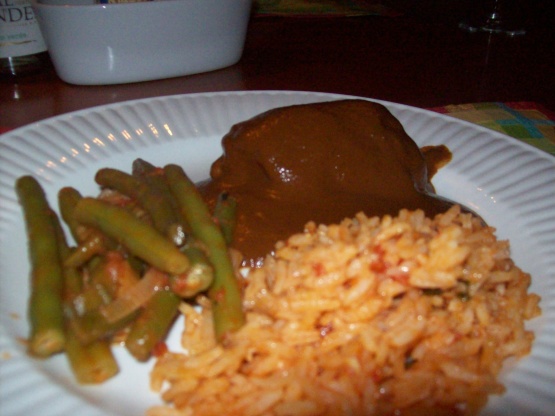 In looking at mole recipes, there is always some part that I would change. So, I did some research, read loads of recipes, picked out the parts (ingredients & measurements) that I like best & created my own recipe! I found some shortcuts; the ingredient list is still typically long but there's nothing difficult to find . It's YUMMY, imho. ;) It's nice & spicy & there's heat but it won't blow the back of your head off. Lovely texture. Great depth of flavor. It's also easy & doesn't take very long!

This was fun to do and great to eat. Milder and more complex than canned mole we've used in the past, this mole had a great texture that flowed smoothly into place and then held its shape for presentation. We put it over a charcoal-grilled steak -- mole is usually served on chicken, but we're odd that way -- and sprinkled a little grated cotija cheese on top for the final touch. Made for ZWT8.
Pour boiling water over ancho peppers in a bowl & set aside to soak for 30 minutes or more until soft. Drain, reserving water but discard the stems & seeds. Set aside.
Toast the sesame seeds & set aside.
Heat oil in large saucepot. Add chopped onion & saute until soft. Add smashed garlic & saute a few minutes longer. Add chipotles, soaked ancho peppers, tomatoes, peanut (or almond) butter, raisins, spices & ancho water. Stir & bring to a simmer.
Using a slotted spoon, scoop out all the solids into a blender. Add toasted sesame seeds. Puree thoroughly. Add back to pot. Simmer 15 minutes until thickened. Taste for seasoning.
This can be served with anything - chicken, beef, pork, tempeh, tofu,turkey -- tonight I served it with pork tenderloin that I seasoned with salt & pepper, seared well in a cast iron skillet, covered with a few ladlefuls of sauce & finished in a 400F oven.