Parsley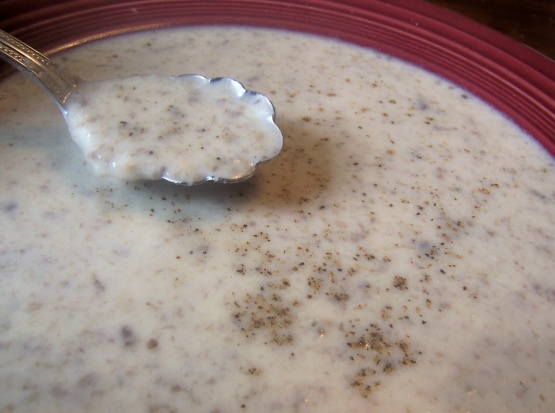 We've enjoyed this very tasty, creamy mushroom soup for years. Now, at last, I've written down the recipe! This soup freezes well and can be thawed and reheated in the microwave.

DH and I both thought this was a great soup. Added 1/2 tsp thyme while frying the mushroom. I think a good homemade chicken broth is key in this recipe.
Melt butter in a large saucepan over a medium heat.
Fry onions in butter until transparent.
Add mushrooms and black pepper and fry, stirring frequently, for 10 minutes.
Sprinkle over flour, stir into the mushroom mixture with a wooden spoon and cook for 30 seconds.
Remove saucepan from heat.
Gradually add chicken stock and white wine, stirring constantly.
Return saucepan to heat, bring to boil, then lower heat and simmer for 20 minutes.
Add mustard, then blend soup until smooth with a stick mixer or blender.
Stir in cream, check seasonings (you shouldn't have to add salt, but check) and reheat.