My Mum's Greek Spinach Pie (Spanakopita)
katia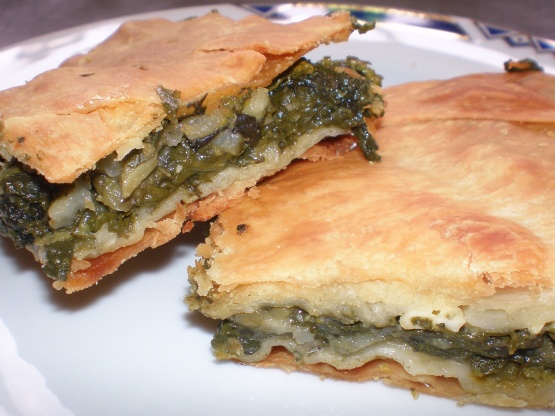 Spanakopita is one of my favorite dishes and I usually make it a full dinner dish. This is my mum's recipe and she always makes her own phyllo pastry. It's certainly worth the trouble. The most important thing in a good spinach pie is the filling. In Greece we use fresh spinach and some other greens for their aroma. They grow in the fields, back yards but we can also find them in some stores and open markets. It's hard to find elsewere but you can also try without them. The spinach pie is an any time special treat!

This is absolutely delicious! The seasoning is exactly how it should be and pie pieces stay together without egg. I cheated and used prepared phyllo dough, but everything else the same. Thank you for sharing!
For the filo: Put in a big bowl the flour, the salt and start adding the water until you have a hard dough that doesn't stick to the fingers. Knead for 2-3 minutes.
(I usually make the dough one day before and I put it in a plastic bag in the fridge. That way it is easier to work it into the filos the next day.).
Divide the dough in 5 pieces for 5 filos. Place one ball on a dusted-with-flour counter and roll into a big circle, a little bigger than the pan you are using. It's hard work, I know! Start using each filo in the pan and then work with the other piece of dough.
Filling: Mix the spinach, the sping onions, the leek, the dill and the parsley. Add one teaspoon of salt and start rubbing by hand for 3 - 4 minutes. The greens start getting softer and their liquids start running. Drain them and then add the feta cheese, the pepper and the rice or couscous. Rice helps to absorb the extra liquid.
Lighty oil a 14 inch in diameter, round baking pan. Layer one filo in the pan, allowing the edges to hang over the sides of the pan. Brush the filo with olive oil and repeat with another filo.
Put the spinach mixture in and add the olive oil of the filling. Tuck in the pastry draping over the edges.
Repeat layering with the remaining 3 filos, oiling each one gernerously.
Using a knife, score the pie into the size pieces you prefer, but avoid cuting through the bottom.
Brush the pie with some more olive oil.
Bake at 375°F for 1 hour.