My Mother's Version: Weight Watcher's 0 Points Vegetable Soup
FLKeysJen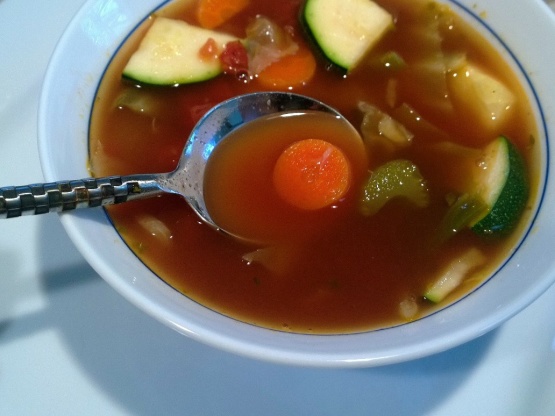 Back in 1993 my DM and I became lifetime members of WW. She revised the 0 point soup recipe. She won 1st place with it at her Office "Soup Cookoff" one year. I just dug it out because now I need it again. Zaar is not kind to your waist line. I also have revised her revision. It called for a can of Cajun stewed tomatoes which I can no longer locate. I now use 1 tsp Cajun spice but food.com won't accept it. Also changed a few other items to my liking.

so, my 2nd time making this. used 1 1/2 lbs ground turkey breast. added extra can of tomatoes and plenty of cajun spice. added fresh spinach as well. let it simmer for over an hour, covered. it is very good. plz, lord! i want to lose some lbs!
Spray large saucepan with cooking spray.
Saute' onion, carrots and celery until tender, approximately 5 minutes.
Combine beef broth, tomatoes, cabbage, bouillon cubes, garlic, Cajun spice, and basil in the saucepan.
Bring to a boil; reduce heat; simmer approximately 30 minutes.
Add zucchini, continue simmering for another 10 minutes.
Serve hot.
Note: Use fat free saltines for 1 point for 7 squares!