My Mother's Vegetable Soup
Parsley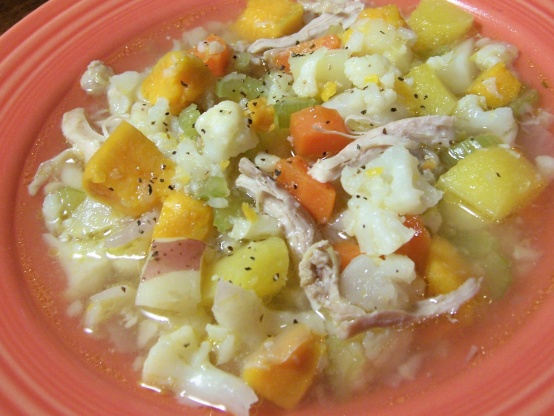 My mother has been making soup since, well, forever. She uses fresh vegetables, and sometimes varies the soup according to what's in season. But everything used is basic stuff, and it is so good. Add one cup of fresh pumpkin instead of sweet potato during October.

Very very easy to make and delicious, but I did think it needed more color so I added some chopped tomatoes to the soup at the end and the red contrasted nicely with the pale greens and oranges of the soup. I also didn't think there was enough chicken in the pot considering the amount of vegetable, so I just added about 3/4 kilo of chicken breast which I took out and shredded after it was cooked and added it back into the soup. I sprinkled some minced cilantro on top for garnish and it was a great supper along with some leftover challah from Shabbat. Thanks!
Cut all vegetables into large or small chunks, as desired.
Cut chicken into small pieces. (my mother leaves the chicken meat on the bone, because the bones add even more flavour).
Place everything in a large pot, and cover completely with water.
Add the seasoning.
Let it come to a boil, and then let it simmer for 1 1/2 hours. It can also be easily refrigerated and then reheated.