My Mother- in-law's 7 Layer Salad
Pamela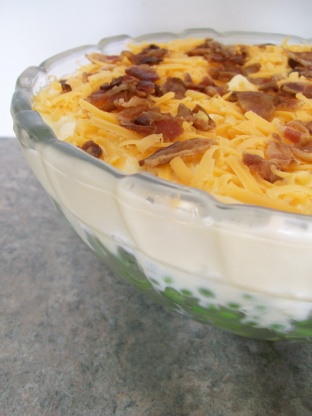 There are actually 8 layers, but as long as I have known my husband, his mom has been making this for all of the gatherings and it has been known as 7 layer salad! This salad looks especially nice in a glass bowl to display the layers.

Top Review by Merlot
This is a great "make-ahead" salad. I put it all together (except for the cheddar cheese and crumbled bacon) and refrigerated about 8 hours. Just before serving, I sprinkled the top with the grated cheddar cheese and crumbled bacon. It was a hit with everyone. Thank you so much Pamela for sharing this. :-)
Layer the ingredients in the order given.
Let stand 8 to 10 hours or overnight.