My Mom's Tuna Fish Sandwich
lazyme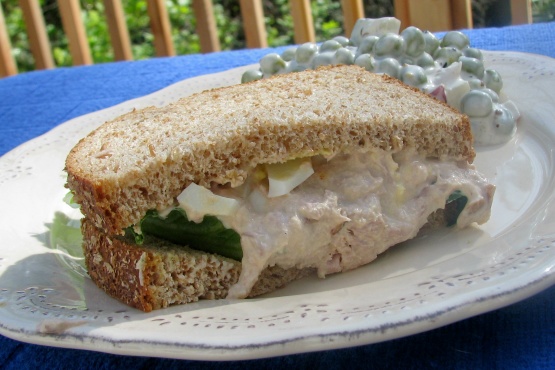 This is my mom's recipe for tuna fish. I can't eat it any other way! This has gotta be one of my favorite sandwiches! Anyone who has tried this recipe likes it.

Great recipe for doctoring up tuna. Used it in a pinch right before my daughter went to school, so I didn't have any eggs. I used less than 3 T mayo and it was great. I only used 1/2 an onion. I was so confident this recipe would make my husband a tuna sandwich lover that I did the open-your- mouth-and-close-your-eyes routine. Okay he didn't appreciate it... and he really doesn't like tuna fish after all. : )
Drain tuna and put in bowl.
Add rest of ingredients & mix well.
Do a taste test and adjust amount of ingredients.
Serve on warm toasted bread.