Julls04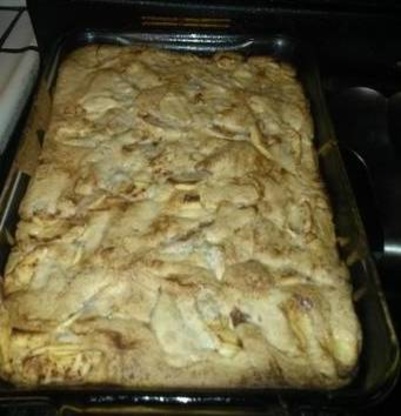 Another one of my mom's tried and true apple cakes that keeps my friends, and their kids!!, coming back year after year after year whenever they are back visiting in our home town.

i loved this cake and so did my son, and he's a picky eater, thankfully his favorite fruit is apples. i had about 8 soft apples medium size for this, but i had to cook it an extra 10 mins because it was still a bit raw after 45 mins, and i cooked it at 375. it was delicious i even added some pictures i hope they go up soon
Peel and slice apples.
Toss with lemon juice so they don't turn brown.
Beat eggs and sugar; add oil and beat till smooth.
Add dry ingredients and mix well.
Spray a 9" x 13" pan, and pour in 1/2 the batter.
Top with apples and cinnamon.
Pour remaining batter on top; spread it with a fork.
Bake at 350-375F for 45 minutes, till light brown on top.