My Mom's Legendary Galicianer (Sweet) Gefilte Fish
Stevetaz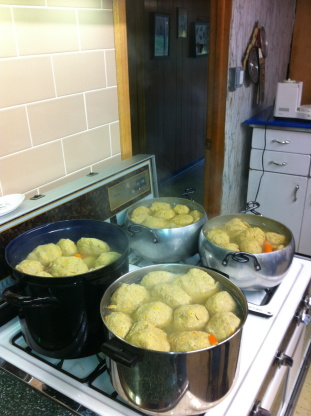 My mother's gefilte fish is the stuff of legends. We have tried to reproduce it for years, with little success. We have watched her make it, measured, copied, you name it. Still, it is just not the same as the fish my mom makes. Hers is so delicious, even to people who just despise gefilte fish, that friends and family members will travel across the continent to have some. A tough act to follow. That said, here is the best approximation of my mom's classic fish that I can come up with. At least for now. I hope your family loves it as much as we do.

Tastes just like the fish I ate when I was growing up.
This time the only difference is there is no Carp swimming in the bathtub.
Another thing was we forgot that the size of our hands have gotten bigger , Our pieces became softball sized but nobody complained.
Thanks for the recipe . :)
2

lbs white fish fillets, ground

3

large onions, ground into the fish

6

extra large eggs
2 1⁄2 teaspoons salt (approx)
3⁄4-1 cup sugar (no, this is not a typo)

5

dashes black pepper
2 -2 1⁄2 cups matzo meal (more or less)

BROTH

2

small onions, sliced

2

carrots, sliced on a diagonal
fish bones (optional)
Mix together fish, onions, eggs, salt, sugar, pepper until very thoroughly blended.
If you are my mother, or not as squeemish as her daughter, you taste it at this point (yes, raw) and adjust seasonings to taste. If you are me, you just pray that it is well-seasoned and move on.
Add matzo meal slowly, mixing very very well, until it is almost thick enough to shape into balls, but just a bit softer. (How's that for imprecise?).
Cover the bowl, and refrigerate for at least one hour, or even overnight.
At this point, you can shape the mixture into balls or loaves and freeze for future use, but no one ever does because deferring this gratification for that long is just impossible.
Make the broth: In a large soup pot, mix the broth ingredients.
Bring to a boil, then simmer for at least 30 minutes or so. It should be sort of golden in color. Taste to adjust seasoning. The broth should be sweet and a little salty.
Form the fish mixture into balls, cylinders, loaves -- whatever.
Add to broth, bring to a boil again, and then lower to a very slow boil for 1 hour and 15 minutes.
Cool. Eat. Enjoy.