My Mom's Graham Cracker Chicken Drumsticks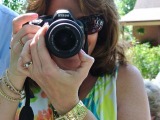 This is the only way my mom ever made coated and baked chicken legs. I'm sure you can use other chicken pieces too. They are also good cold.
Directions
Line a baking pan with foil.
Place the graham cracker crumbs in a large zip-loc bag.
Dip the chicken in the melted butter. Place in the bag with the crumbs and shake to coat.
Place on the baking pan, with some space between them.
Bake at 400°F for 40-45 minutes or until tender.