scancan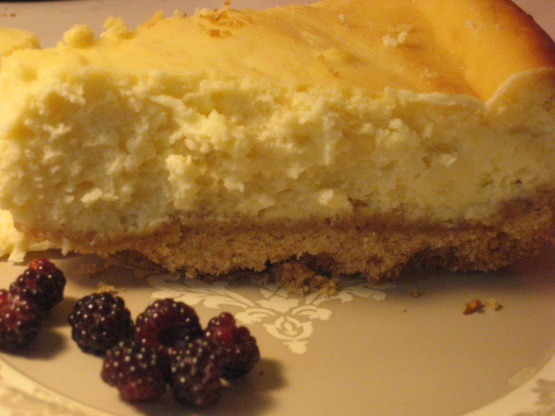 This is the best cheesecake I've ever had. I know everybody says that about their mom's baking, but this time its absolutely true! :)

This is a delicious very dense cheesecake; very N.Y. style. I make a graham cracker crust to go with it and served it cold as I prefer it that way. If you like blueberry or any other pie filling this is sometimes poured over the top of a cheesecake like this. I however didn't use any topping at all and it was just perfect. Made for MY 3 Chefs '08.
Preheat oven 325 degrees, butter a 9inch springform pan.
whip egg whites with 3/4 cup sugar ntil very stiff.
Put aside combine yolks, remaining sugar (1/2 cup), flour, vanilla, sour cream, cream cheese, and 1/2 of the instant pudding powder, and mix until smooth.
I use the mixer for this.
gently fold whipped whites into cheese mixture and add the orange peel.
pour into prepared pan, and bake until top is almost golden but not quite, and the cake is quite firm.
In my oven it takes about 40-50min.
Remove from oven and let rest.
Cool completely.
I normally cool overnight before topping, best to keep in the fridge.
to prepare topping-- whip milk+cream+remaining pudding powder until stiff.
Pour over the cake and keep in the fridge.
Before serving you could top with berries or other fruits sprinkled with powder sugar.
It is best to serve this cake at room temperature and I normally take it out of the fridge at least an hour before serving.