My Mom's American Chop Suey
Pumpkie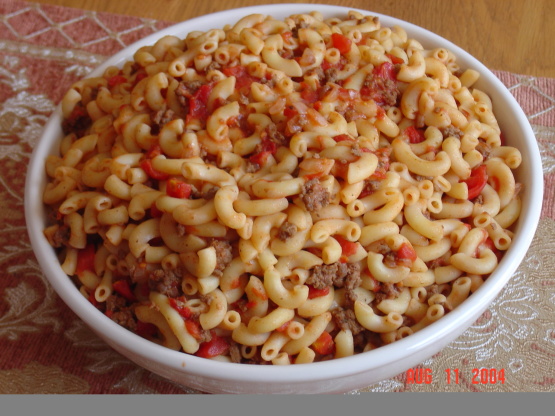 My mom used to make this all the time. She gave me the recipe one night when I was trying to use up some hamburg. It is something quick to throw together.

This recipe made way too uch acaroni, also you should not make the macaroni first, rather, wait until you get the meat mixture going. It also definately needs spices. There was very little flavor and I ended up adding a lot of salt as well as Italian seasoning but it still needed more.
Cook Elbows according to package directions.
Drain and set aside.
In a large skillet, brown the hamburg, onion and garlic together until the hamburg is done.
Drain off the fat, return to skillet and add in the can of tomatoes.
Add the oregano and salt, bring to a boil and then lower heat to a simmer.
Let simmer for 30 minutes to blend flavors.
After 30 minutes, add the elbows to the hamburg mixture and stir to coat.