Mami J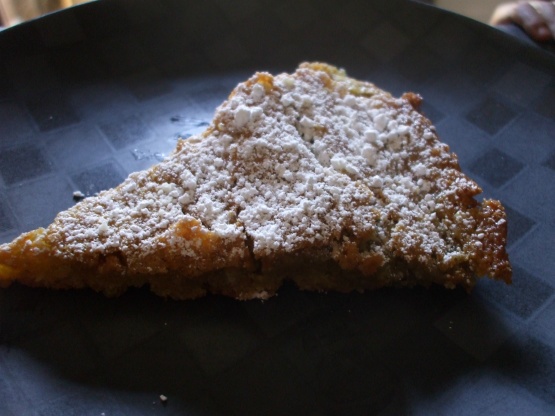 I'm a chocoholic so it is a big deal when I say that THIS is my favorite cake. It is simple, yummy, makes two small cakes or 1 large and is a little ugly. You do need two eight inch spring form pans or 1 9 inch spring form pan...worth the investment...i make two eight inch cakes. Very moist and keeps for TWO WEEKS in a sealed container just getting better with time. You'll be asked for the recipe. This makes a great gift, housewarming, dessert or great as a snack with coffee.

This is probably the 5th time I have made this cake. If you love almond, you will be in heaven. I have not varied from the listed ingredients or instructions and the cake comes out perfect every single time. It keeps for such a long time and as others have indicated it gets better and better as it "ages". I am making this in the 2 8" pans for the first time today. I have always previously made it in the 9" pan. If it dies not come out as well, I will add to my review. This is truly my favorite almond cake! Update from yesterday. Made this in the two 8" springform pans and they came out perfect. They were done in about 35 minutes in my oven. Please note, this is abtruly decadent cake. This cake does not rise a lot so don't expect a big fluffy cake. A small slice with a little dusting of piwdered sugar is all you need.
Preheat oven to 325 degrees.
Butter sides and bottom of pan(s) and flour them as well.
Place pan(s) in freezer (i've done this and also skipped it, works either way, i feel).
Sift flour and salt into a small bowl. Set aside.
In a mixer with a paddle, beat butter and sugar at hight til fluffy (5 min).
Add almond paste, one chunk at a time and beat at medium speed for 8 minutes.
Beat in egg yolks, one at a time.
Beat in almond extract.
Mix baking soda and sour cream together and add to butter mixture.
Reduce speed to low and add flour mixture, turn off when just blended.
Divide among the two 8 inch pans or 1 9 inch pan.
Bake about 35-40 minutes and start checking. My oven is really hot so it is usually done, but my mom's oven takes at least an hour to bake.
Cool in pans on wire rack.
Take out of pans, store in covered tins or sealed rubbermaid containers -- get better with time.
When ready to serve, dust with powdered sugar.