My Mommy's Phyllo Chicken
Derf2440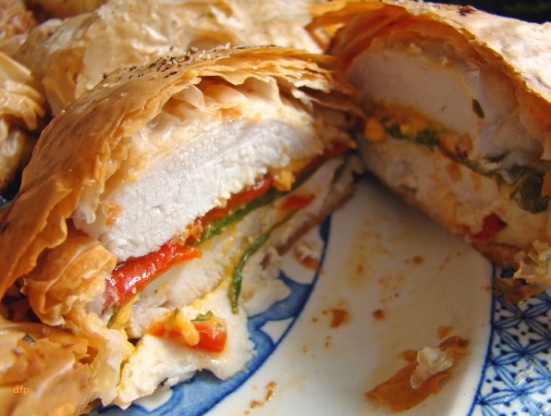 A very easy way to wow your guests! Light and crispy, this chicken dish is sure to please...

We just ate this for dinner. Good recipe idea. However, it needs some seasoning. Be sure to add your favorite seasoning to the chicken/pepper/cheese combination before wrapping it up in phyllo dough.
Pan sear the chicken in EVOO that has been seasoned with salt and pepper.
Coat one sheet of phyllo with butter and place second sheet of phyllo on top and coat with butter. Repeat this step until you have used all the phyllo. You should have 4 piles each with 2 sheets of phyllo.
Cut chicken in half, and stuff with cheese, spinach and peppers.
Place each chicken breast in middle of phyllo and fold up to make a packet.
Brush outside with butter.
Bake at 350 for 20-25 minutes, phyllo should be brown and crispy.
Serve with garlic mashed potatoes and enjoy!