dojemi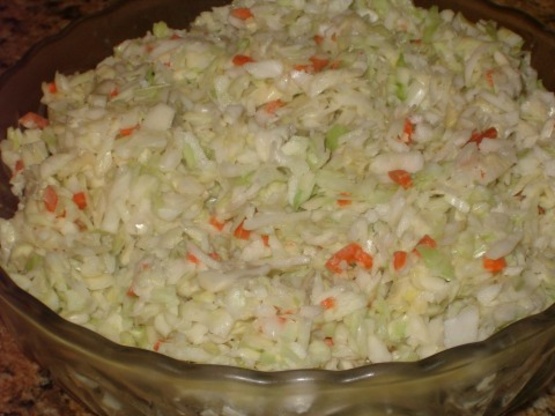 My MIL gave me the 'ingredients only'...........she never measured anything. After several attempts, I got it right. I made her proud. I prefer to chop the veggies rather than grate (like KFC's cole slaw - which this tastes like). Servings are approximate.

This was yummy! First off, it is MUCH better the second day. I was in a hurry, so I just used one head of cabbage, 1/4 tsp onion powder,1/4 tsp salt, dash pepper, 1/8 c. cider vinegar (these are guesses, as I didn't really measure and one packet of splenda...then I just added enough lite mayo to hold it. I chilled overnight and voila! Best part? This is super healthy, compared to most cole slaw recipes you will find out there!
In a food processor, chop cabbage, carrots, peppers and onion.
Chop them ONE-AT-A-TIME-- not all together.
Put into a large bowl and add remaining ingredients.
Mix well.
Best prepared the day before you plan to serve to allow flavors to blend and juice to form.