Kim M.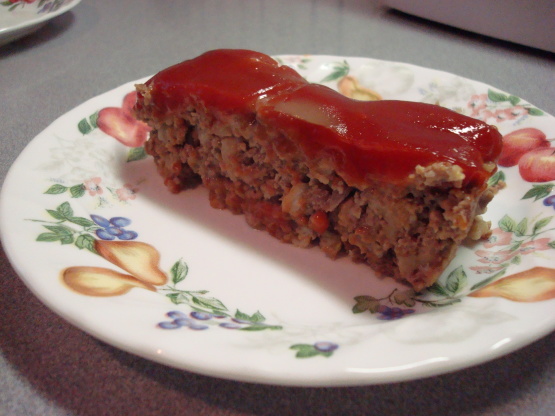 This is a consolidation of my mom's recipe and my own touches. I use to use just 1 pound (or more) of ground beef, but now that I have changed my eating habits, the turkey is incorporated into it, making it a little healther. Adjust the amounts as you need or to your desires. Sometimes I use more onion, sometimes less. I also sprinkle in garlic powder and Accent every once in a while.

This was really good. I just love the combination of the two meats, and it was so easy to make.
All measurements are approximates.
Mix the ground meat with the ingredients listed, with the exception of the ketchup.
Place in a lightly sprayed loaf pan (sprayed with Pam), top with ketchup (my boys like a thick layer of it on top).
Bake in a 350 degree oven until thoroughly cooked (45 minutes or more).
*For the dried bread crumbs, I use 2 to 3 slices of lightly toasted bread that has been chopped up in a food processor.