My Light and Spicy Tuna Salad
SugarHATER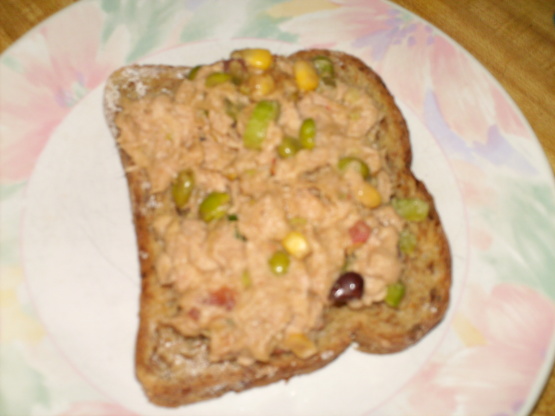 Spicy Tuna salad You're only using 1 tablespoon on mayo for the WHOLE thing! The rest of this salad is packed with veggie and spicy stuff that will improve your circulation (good for you) Don't eat that deli crap any more! Make your own and go very, very easy on the mayo - remember whatever you put in your mouth will end up sticking to the inside of your arteries!

This is very good, and nice and spicy. I used 0 fat Greek Yogurt instead of mayo, but otherwise stuck with the recipe for the tuna salad. I did not serve it on bread, as I am avoiding that right now due to my diet. I did used jarred jalapenos instead of fresh since I had to use the juice from the jar....although I think I will use fresh next time. I do not recommend this for spice sensitive individuals. Thanks for sharing! Made for PRMR.
2

(5 ounce) cansof light tuna in water i use bumble bee chunk light tuna (never in oil, blech!)

1

tablespoon chipotle mayonnaise ("Goya Chipotles in Adobe Sauce")

2

tablespoons salsa (add more or less or skip according to taste)

1

teaspoon chili powder (add more or less accoriding to your taste)

1

teaspoon cumin (add more or less according to your taste)

1

pickle (chopped up, dill or kosher, never use sweet pickles in this)

5 -7

slices jalapeno peppers (pickled or fresh)

1

tablespoon pickled jalepeno pepper juice (from the jars of pickled jalepenos. Yes, that's right, the juice from the jar!)

1

stalk celery, chopped
1⁄4 teaspoon white pepper (optional)
1⁄4 cup peas and carrots (optional, I'm just trying to up the nurtrion content and lower the fat)
Mix everything but the bread together.
Spread on Eziekel sprouted bread and eat.
or add this on top of a baby spinach salad.