My Kidz Favorite Pork Chops
Brenda.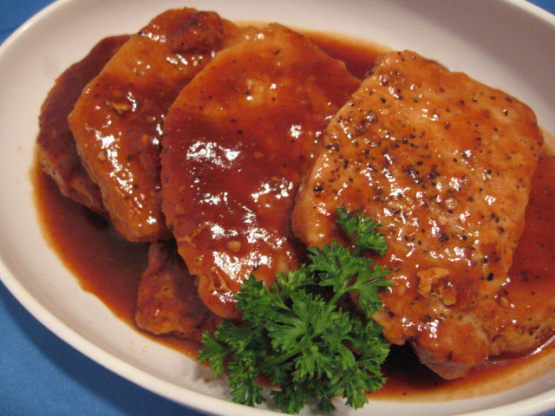 This recipe will fall off of the bone. Don't be alarmed by the beer, as it will cook off while the pork chops are braising. If you would like, you can substitute Chicken Broth or Vegetable Broth for the beer. The flavors will give you a tangy taste with not too much effort. Great for unexpected guests. I posted this recipe on another site, but I want to keep all of my recipes together in one place. You can either cook the chops on top of the range or throw them into the oven on a low temperature (about 300 degrees for 1 - 2 hours). Serve with white rice.

I made this for my family tonight and it was really delicious!! Interesting taste, with the beer, but it cut the bbq sauce so it wasn't too sweet or spicy. I used a dark red beer since that's what I had, and it was really good. I'll make this again!! Thanks!
6

pork chops
mccormick's broiled steak seasoning or other dry steak seasoning

1

bottle full bodied beer

1

(18 ounce) bottle barbecue sauce, I prefer Sweet Baby Rays

2

onions, sliced
Liberally sprinkle pork chops with McCormick's Broiled Steak Seasoning.
Brown both sides in a non-stick skillet.
After the pork chops have been browned, remove them from the pan.
Pour one can of beer into skillet.
Stir around the beer until all the particles on the sides have been incorporated.
Pour in barbecue sauce and place the pork chops back into the pan.
Add onions and cover.
Simmer on low for 1 to 2 hours.