My Kids Favourite Pasta Meal.
Um Safia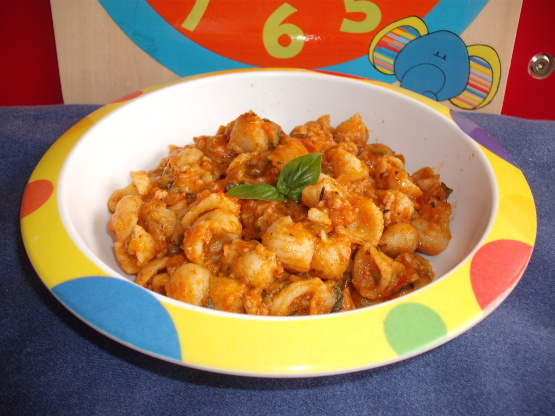 Despite the fact that my two young children go through picky phases, they have decided that they both LOVE this pasta. DS especially can't get enough of the stuff & I am very happy as it's a healthy, filling meal suitable for all the family. I use the wholewheat tiny pasta shells (sold as conchigliette) but you can use any small pasta really. We like to serve this with a green salad & crusty bread! This is also a nice dish to pulse in the blender for older babies.
Gently fry the onion & the chicken in a medium sized pan over a medium heat. After 10 minutes, add the rest of the chopped / grated veggies & the seasoning, fry for a further 15 minutes.
After 15 minutes, add the liquidized tomato , miced garlic & the water. Cover & simmer gently for 45 minutes.
After 45 minutes, remove the lid, turn up the heat & reduce the sauce until it is nice & thick.
Whilst the sauce is cooking, cook the pasta in plenty of lightly salted boiling water until soft.
When you have a thick sauce, remove from the heat & stir in the cheese & the basil. Mix well then stir in the pasta. Cover & allow to sit for 5-10 minutes, this way the pasta is the right temperature for the family to eat & the pasta will have taken on the flavours of the sauce.
Serve the kids first, then adjust the seasoning for adults if required.