Linky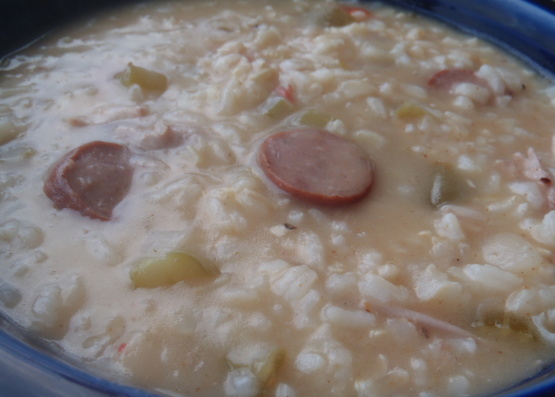 This is my jambalaya recipe. When my Grandpa makes it, he doesn't use butter, but cooks down really fatty bacon and sausage to get the grease out of it, and then discards the remaining chunks of grizzle before adding the onions, etc. You can use canned chicken and broth if you don't want to mess with the thighs. Really, jambalaya is supposed to be a cheap meal that stretches meat, so you can use whatever leftover meat that you want to in place of the sausage and thighs. 2 1/4 cups of rice is 1 entire small bag. Please adjust the hot sauce to your tastes. Serve with red beans or potato salad.

Top Review by Linky
I went with the 3 thighs (rather than 1 cup), also added half a red pepper. Next time will add a few more veggies. That being said, this made a delicious jambalaya. This was the first time I'd made it with no tomatoes. I loved the flavor from the broth - much richer chicken taste than just using skinless, boneless thighs! made for ZWT9 Soup a Stars
Boil the chicken in at least 7 cups of water. (You will be using the water as broth later on.) Boil for at least 10 minutes.
Meanwhile, chop the onion, pepper, celery and mince the garlic. Add to about 1/3 stick of the butter in a dutch oven.
Meanwhile, remove the chicken from the broth, and de-bone, while sautéing the vegetable blend. Slice the sausage and chicken into large chunks. Add the meat to the vegetable blend. Continue simmering the broth, with the bones and skin added back in if you'd like.
Add the remaining butter, and the flour. Make a roux. (Cook until the flour no longer smells raw, and begins to brown slightly.).
Add the 7 cups of broth and the rice, being sure to remove the skin and bones. Stir thoroughly.
Simmer for about 30 minutes, stirring 2-3 times to ensure that the mixture doesn't stick to the bottom of the dutch oven. It is done when the water is absorbed, and the rice cooked. (If you have a non-stick dutch oven, you may have to add an additional cup of water at the end to allow the rice to cook all the way.).