loof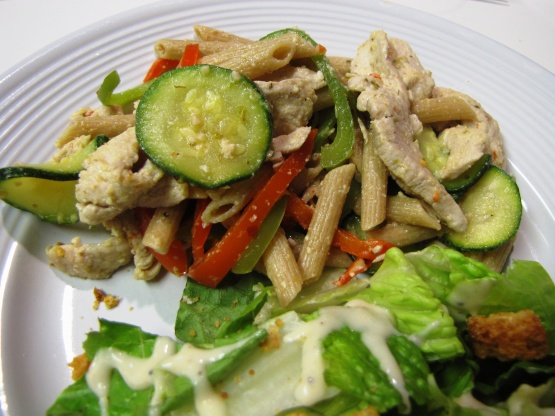 I came up with this when I had extra zucchini to use up. The recipe is pretty flexible, so have fun with it!

Top Review by loof
This is a wonderful quick and easy meal! I used fat-free dressing and whole wheat pasta with good results. I don't care for onions so left them out; I had half of a red bell pepper in the 'fridge so used that in it's place. I took the advice of another reviewer and just sauteed the turkey in the dressing instead of adding the olive oil. Tasty and healthy and ready in a flash - thanks for sharing the recipe!
Slice turkey breast thinly across grain (this is easier if you pop it in the freezer for about 30 minutes so it is partially frozen).
Marinate sliced turkey in Italian salad dressing for 30 minutes. Drain well before cooking.
Heat oil in wok or deep frying pan. Sauté turkey, stirring often, just until it looses pink color, about 4 minutes.
Add onion, pepper, and zucchini and continue cooking, stirring often, until vegetables are crisp-tender, about 4 minutes more.
Season with oregano, salt, and pepper.
Stir in cooked pasta; continue stirring until pasta is heated through.
Sprinkle with Parmesan cheese and toss lightly.
Serve and enjoy.