My Huge-Mongous Pumpkin Smoothie (Healthy, Low Cal)

This smoothie tastes great, is high in fiber, and will satisfy any pumpkin pie craving! Perfect for the fall. Very simple to make and I'm actually enjoying one right now.
Directions
Dissolve your sweetner of choice in one tablespoon of hot water.
Add all ingredients except the ice to the blender.
Whiz it a couple of times and then add the ice.
Blend on highest setting until ice is completely crushed.
Reviews
Most Helpful
So easy to make and the perfect way to use up leftover pumpkin! Great for a pumpkin treat when you're in a rush and need breakfast in a hurry!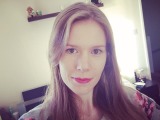 This is very, very good and good for you. I too have added vanilla extract but it is delicious either way. Thank you Kate -- you've helped me stay within my daily calorie limit many times!
This is fantastic! I actually nixed the water and it made for a creamier (although smaller) smoothie and I added vanilla extract. Using skim milk instead of lowfat, it calculated at 85 calories. So good!