My Homemade Spaghetti Sauce
Pastec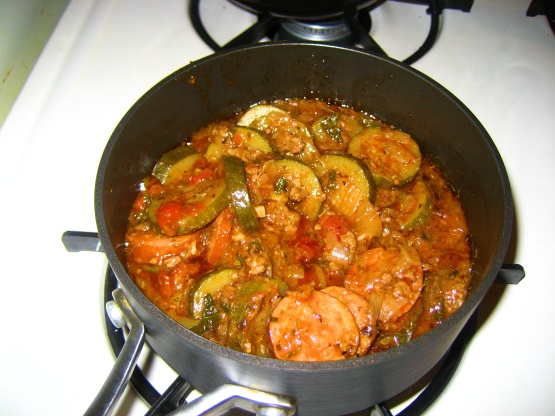 You can replace the sausage (by any other type of sausage) or the ground beef (by ground lamb - for instance) or do it only with one of the two. The zucchini can be replaced by any other vegetable, the cherry tomatoes can be replaced by any other type of tomato as well (I just happened to have them on hand when I invented this concoction). I can assure you it IS delicious!
in large frying pan sauté with olive oil - thinly sliced onion & thinly sliced garlic until lightly blanched.
add sausage & ground beef.
sauté until sausage & beef are braised.
add some wine.
transfer to a large pan.
add halved cherry tomatoes & sliced zucchini.
sauté until tomatoes begin to wrinkle.
add V8 & allow to reach a simmer.
add pesto, oregano & thyme.
reduce to level of a thin sauce.
add corn starch & thicken.
add more wine.
last – add parsley & chives.
season with salt & fresh pepper.
reduce to sauce thickness (if it needs liquid add more white wine).
Allow to cool & refrigerate overnight for flavors to be infused in the sauce.
Serve over "al dente" pasta and top with grated romano cheese.