My Homemade Barbecued Pork
teresas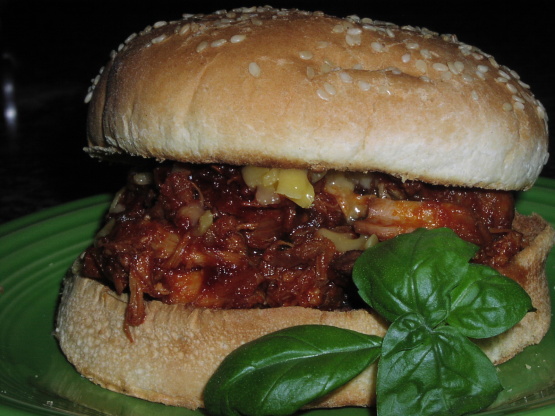 I have this homemade recipe sitting around in my files. Great for hamburger buns, for a little dinner . I have used cubed chuck roast, instead of pork with this occasionally.

The first thing out of hubby's mouth was "this taste like Manwiche"...it's been like 30 years ago when I last opened one of those cans...but I have to agree...it's Manwiche...it's on the sweet side just like the can stuff...this is easy to prepare...I did cut the recipe in half and it was really done in 7 hours...so I turned it down to low...made for the "For Your Consideration" tag game...=)
Combine all ingredients in a slow cooker.
Cover and cook for 8 hours on high.
Shred meat with a fork, and then mix into sauce and heat through.
Serve on hamburger buns with shreeded cheese of your choice, and a dollop of coleslaw on top if desired.