My G'ma's Best Scalloped Corn
Katrina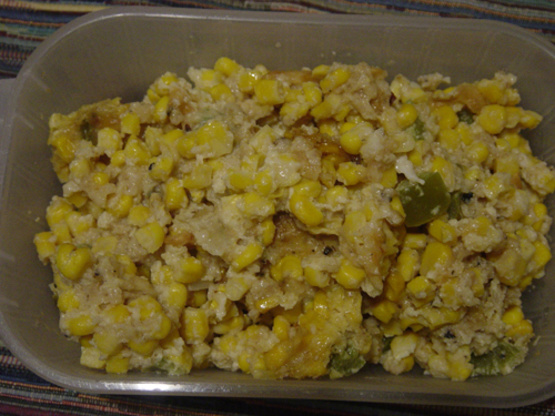 This is what everyone always requests from my grandma for all get-together, it is so good! She finally gave me the recipe after I have been begging her for it for years--it's supposed to be a family secret. I can't believe I'm sharing it w/all of you...shhh. But it is that good, I thought you guys should try it out!

This is a quick and easy recipe to assemble and uses easily obtainable ingredients. I successfully halved the recipe and substituted red pepper for green peppers. It didn't specify what type of cracker crumbs, so I used Ritz Crackers. I baked it exactly 35 minutes as the recipe specified and it was perfect. Katrina, thank you for sharing your Grandma's delicious family recipe!
Preheat oven to 350°F.
Mix all ingredients and spoon into a greased 1-quart casserole dish.
Bake uncovered for 35 minutes.