My Feed Alot Go to Casserole!
Brenda.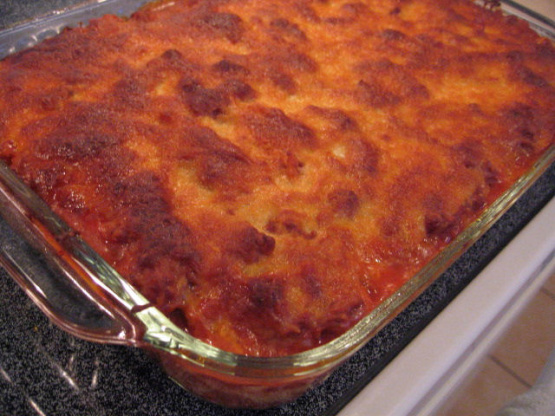 The title is not misleading! This will serve 16 easy! Or split and freeze one! Simple ingredients for a wallet friendly meal...or two!! :)

This was a very good casserole. I loved the buttery, cheesey noodles layered between the meat sauce. The entire recipe less a few noodles did fit into a 9x13 glass baking dish (barely). You are right, this makes enough to feed a small army! Thanks for sharing, we will have this again. Made for My 3 Chefs
Preheat oven to 350.
Brown meat and drain.
Add sauce and sugar; simmer for 20 minutes.
Cook noodles as directed; drain and toss with butter, salts, and parm cheese.
Spray nonstick spray into 2 casserole dishes.
In both pans layer half the sauce, all the noodles, rest of the sauce and top with mozzarella cheese.
Cover with foil and bake for 45 minutes.
Serve one and freezer the other!