My Favorite Turkey Recipe
rosie316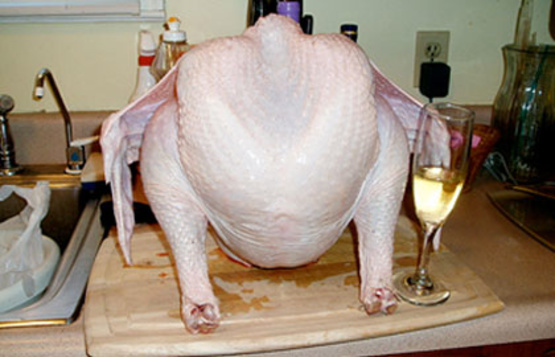 Once you try this recipe, I would be willing to bet that you never go back to your old ways of preparing a turkey again! Enjoy!

I substituted liver for turkey and wine for vodka. I don't think these minor adjustments affected the flavor of the original recipe. I would not serve to company. 1 star.
Buy a turkey.
Have a glass of wine.
Stuff the turkey.
Have a glass of wine.
Share a 3/4 cup of wine with the turkey.
Put turkey into the oven.
Have a few more glasses of wine.
Turk the bastey.
Wine of glass the another get.
Ponder the meat thermometer.
Glass yourself another pour of wine.
Bake the wine for 4 hours.
Take the oven out of the turkey.
Floor the turkey up off the pick.
Turk the carvey.
Get yourself another wottle of bine.
Tet the sable & pour yourself another glass of turkey.
Say grace, throw up & pass out.
Enjoy!