My Favorite Rolled Sugar Cookies
Derf2440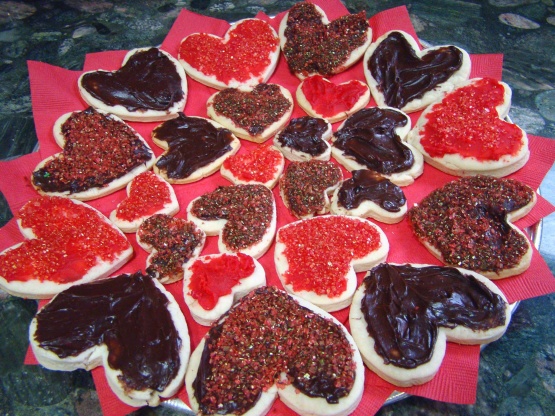 I found this recipe on a bag of Wal-mart sugar some time ago, and it was so simple, I had to try it. I have tried a zillion sugar cookie recipes, trying to get the soft cookie I like best. I think I have found the perfect sugar cookie. Please note that your cookie yield will vary, depending on what size cookie cutter you used. When I use a variety of sized Christmas cookie cutters, I normally get about 2-1/2 dozen.

I've been looking and looking for a good sugar cookie recipe that would hold its shape when baked, but still be soft (not crispy). This recipe did the trick. I made 3 dozen perfect ghost cookies today, and 2 dozen perfect pumpkin cookies yesterday. The cookie is a wonderful buttery/sugary cookie that is still soft when cooled. Make sure you watch the cookies and take them out when you see the first signs of golden-brown on the bottom. I rolled and re-rolled the dough many times and all the cookies were perfect! Thanks for a great recipe!!
In a large bowl, cream together sugar, butter, milk, vanilla and egg.
Lightly spoon flour into a measuring cup, level off. Add the flour, baking powder and salt to creamed mix, mix well.
Cover and refrigerate for 1 hour for easier handling.
Preheat oven to 400 degrees.
On lightly floured surface, roll out 1/3 of the dough at a time to approximately 1/8 inch thickness (I don't whip out a measuring tape at this point--just an estimation--eyeball to the thickness that you prefer.).
Cut with desired cookie cutters.
Place 1 inch apart on ungreased cookie sheets. Decorate as desired.
Bake at 400 degrees 5-9 minutes until edges are very light golden. (In my oven, this takes about 6 minutes.) Be careful not to overbake (if you like soft cookies, as I do.).
Immediately remove from cookie sheets to cooling racks.