gailanng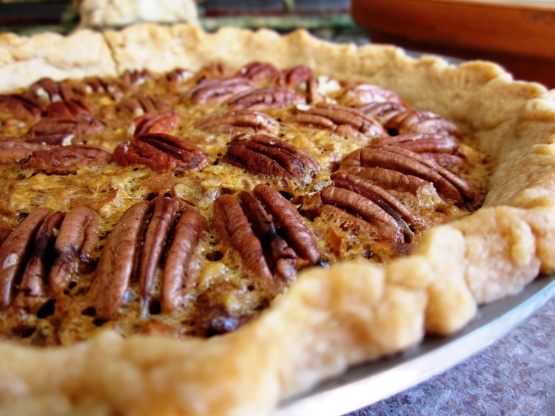 I'm making an attempt to compile all of my favorite Thanksgiving recipes so that I've got them all in one place safe and sound. I've been making this pie for several years and it's always a big hit. The secret, I think, is the three different sizes of the pecans. It seems like they incorporate throughout the filling better. Very crunch, nutty and delicious.
Preheat oven to 350 degrees.
Brush egg white over unbaked pie shell. This is optional. I do it because it helps to keep the bottom of the crust from getting soggy.
In a large mixing bowl, whisk together the eggs, corn syrups, brown sugar, butter, salt and finely chopped pecans.
Arrange the quartered pecan halves on the bottom of the pie shell.
Gently pour filling mixture over quartered pecan halves.
Arrange pecan halves on top of filling.
Bake for 50 - 60 minutes or until filling is set and fairly firm.
Serve with fresh whipped cream, if desired.