My Favorite Peanut Butter Cookies
Lvs2Cook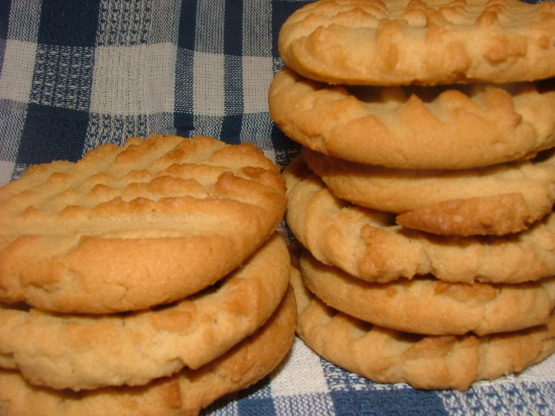 This recipe makes a large, flavorful cookie.

Really great peanut butter cookies! I baked mine on my air-convection oven for 8 minutes, and they turned out just the perfect texture, more on the crispy side, just the way I prefer my PB cookies. I made exactly as stated with no changes, but I divided the cookie dough in half and added some tiny chocolate chips to one half, my son's fiance is a chocoholic LOL!. Thank you Lvs2cook, I will make these again soon!...Kittencal:)
Cream butter, shortening and sugars. Add the eggs and blend well. Add the peanut butter and vanilla. Add all dry ingredients until well blended.
Roll tablespoonfuls of dough into balls and place 3 inches apart on lightly greased baking sheets. Using a fork, make a crisscross pattern in each cookie.
Bake at 375º for 8-10 minutes. Do not overbake. Leave the cookies on the sheets for 5 minutes before removing to a rack to cool completely.