2Bleu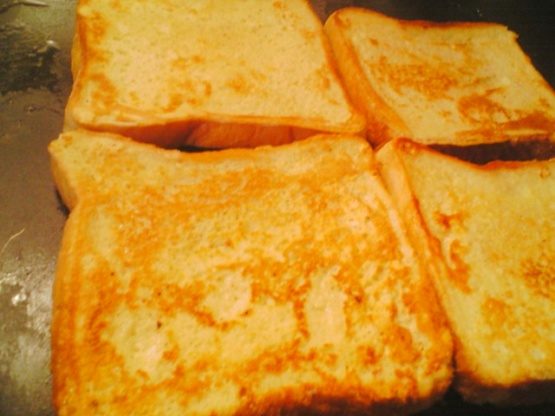 I'd been polishing this recipe for a while, then found the absolute best bread to use and now The Beau says I've ruined him for all other French Toast. It's called shoku pan, it's from the Japanese bakery. Shoku pan is wonderfully square and comes sliced either thin or thick--each of the thick slices are an inch fat! Look for it at an Asian market, I get mine at Uwajimaya or 99 Ranch Market and buy it a couple of days before I'm planning to make this so the bread is slightly stale. If you can't find shoku pan, substitute another thick sliced Texas Toast style bread.

I did not use the cognac and didn't have the milk or eggs at room temp. It turned out great anyways. I used Texas Toast, since I couldn't find the shoku, even at the Asian market. Mine made 13 slices, right to the bottom of the bowl, LOL! I did find that I had some settling of spices or sugar, so next time I'll stir the mixture in between soakings. Used my large electric skillet and was a snap. Everyone liked it. Made for Please Review.
Pour flour into a large mixing bowl.
Slowly whisk in the milk.
Whisk in salt, eggs, spices, vanilla, sugar and cognac or Grand Marnier until smooth.
Heat a lightly oiled griddle or frying pan over medium heat.
Soak bread slices in mixture until saturated.
Cook bread on each side until golden brown, keeping cooked slices warm in a 250° oven until ready to serve.
Serve hot with butter and your favourite syrup, 2 slices per person.